Ashton Consulting Engineers

Structural Engineering - Conservation
George enjoys working on the conservation of both historic and modern buildings. He has been involved with the conservation, alterations and extension of several Grade 2 Listed buildings and modern steel and concrete buildings. Below are two examples of such projects.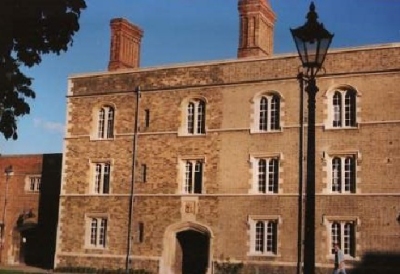 Jesus College, Cambridge
Structural alterations and repairs were designed for several of the Staircase Blocks as well as the conversion of the former library to study bedrooms for this Grade 2 Listed building in the heart of Cambridge.
During the works 15th Century load-bearing oak studs were exposed that had rotten bases. The rotten timber was carefully cut out and the stud wall underpinned with engineering brickwork and concrete footings. Other structural repairs included strengthening the timber roofs, brickwork, stonework and beam and pot concrete floors.

Histon Baptist Church,
Histon, Cambridgeshire

The aim of the new Welcome Area was to make the church more accessible to the many users of the buildings from the village community. The Welcome Area is now a hub linking the halls to the main church building and the ramp gives improved access for wheelchair users. The total cost was £130,000.

The structural alterations to the existing Listed buildings included the raising of the stone cill to the South Window of the church, inserting a new beam pre-loaded against the cut stone mullions, the installation of a portal steel frame to open up the internal space and a glass roof with structural glass beams.